In order to undertake the goal of reproducing the Shepherd's Rod message in its original pocket size tract format, it was necessary to search out and locate authentic specimens that were distributed during the period Bro. Houteff was alive. In this way the exact layout and formatting, along with the original artwork could be verified, compared, and incorported into digital format suitable for reproduction purposes. Fortunately, by providencial circumstances beyond expectation at the time, the leading hand of the Almighty brought to our knowledge at least four different sources of original Rod literatures, some from the most unexpected locations, as will be disclosed below. At this time the publishers of this website are pleased to share this information for all whom may have an interest in some of the history of the Rod message told from the perspective of its published literatures. May this largely visual historical perspective serve as a refreshing break that does not focus so much on the individuals involved and some of their unfortunate blunders, but rather on the beauty and purpose of the message itself—the Publishers
How do we know what are the authentic original publications of the Rod
published while the prophet was alive?
Important Notice: By God's wise providence and infinite mercy original specimens of Rod tract literatures have been preserved in many locations. Fortunately, four of these are institutions that are open to responsible researchers and do allow limited access to their rare archive materials. These locations are listed below if you ever plan to access them. In one location a large amount of materials (complete sets of TG's and other tracts) from many different sources was recently cataloged with reference to the locations where it was published. These should now be available for interested partons by searching under the key words, "Victor Houteff", "Shepherd's Rod", and "The Universal Publishing Association."
If anyone who reads this article knows whereabouts of any individuals who may have complete sets or portions of the original Rod literatures, the publishers would appreciate finding out how to contact these people.
Cover Artwork for Selected Editions of the Tract Series, Nos. 1-15
| | | | |
| --- | --- | --- | --- |
| | | | |
| Tract No. 1: 1st Ed. (1933); | 2nd Ed. (1941). | Tract No. 2: 1st Ed. (1933); | 2nd Ed. (1941) |
| | | | |
| --- | --- | --- | --- |
| | | | |
| Tract No. 4: 2nd Ed. (1941); | 3rd Ed. (1943). | Tr. No. 5: 3rd Ed. (1942) | Tr. No. 6: 2nd Ed. (1941) |
| | | |
| --- | --- | --- |
| | | |
| Tract No. 7: 1st Ed. (1933); | 2nd Ed. (1941); | 3rd Ed. (1943). |
| | | | |
| --- | --- | --- | --- |
| | | | |
| Tract No. 8: 1st Ed. (1937); | 2nd Ed. (1941) | Tract No. 9: 1st Ed. (1940); | 2nd Ed. (1942) |
| | |
| --- | --- |
| | |
| Tract No. 13: 1st Edition (1941); | 2nd Ed. (1944) |
| | |
| --- | --- |
| | |
| Tract No. 14: 1st Ed. (1943) | Tract No. 15: 1st Ed. (1947), two different printings. |
Which version of Tract No. 3 should we publish today?
Since it has been noticed recently by many Davidians that there are three editions of Tract No. 3, "The Judgment and the Harvest", some brethren have inquired about which version of should be published today. Tract No. 5, p. 111 makes a reference to Tract No. 3, 3rd Edition. The editors looked into this and found some interesting facts that many Davidians may be desirous to know about so that they can be certain they are studying from the latest revised version that Bro. Houteff published during his lifetime. As it turns out the version of Tract No. 3 that has been published over the years by various groups is not the latest 3rd Edition (1942 copyright), but, in fact, the 2nd Edition (1942 copyright). Is this significant you may wonder? the answer is most definitely yes as will be explained. The 1942 2nd Edition of Tract No. 3 contained a total of 104 pages and does not have the supplemental section on Bible numerics that was published in the 1934 1st Edition. This fact is established since other groups publish a brief sixteen (16) page supplement entitled "The Harvest: Parabolical-Ceremonial" to cover for this missing information. However, this supplemental material comes from the 1934 1st Edition of Tract No. 3, not from the latest revised 3rd Edition. If one compares this section on Biblical numerics between the two editions it is clear that revisions were made. As it turns out the 1942 3rd Edition of Tract No. 3 was expanded to 128 pages to include this important material, in revised form, along with a question/answer section (pp. 114-26) that is not currently being circulated anywhere in Davidia. This section has some very interesting material that all earnest Davidians will want to know about, including a brief comment on the First Angel's Message (3 pgs), and then a Question/Answer section refuting the false doctrine of baptism for the dead (pp. 117-124).
It is interesting to note that the content from pages 114 to 124 in Tract No. 3, 3rd Edition first appeared in the 1st Edition of Tract No. 9 which was first published in 1940. Later, Tract No. 9 was revised in a 2nd Edition which appeared in 1942 and went from 112 pages down to 80 pages. This important content from Tract No. 9, 1st Edition was then transferred to the 3rd Edition of Tract No. 3 which also came out in 1942. Now anyone in Davidia has the opportunity republish the latest revised editions of these two tracts in the exact manner that the prophet published them.
For scanned PDF copies of some of the earlier editions of various Rod Tract literatures, please visit the link "Older Editions".
What is the original the cover art for the Timely Greetings?
Most brethren who have accepted the Shepherd's Rod message since the late 1970's are familiar with cover art and layout that was originated with the Yuciapa Association starting somewhere around 1975 or so. As can plainly be seen by comparing the images below, the Timely Greetings (TG) covers that originated from this Association are not original. Dramatic changes are apparent with the introduction of a new border design and a completely different heading font. When compared with the original TG covers used while Bro. Houteff was alive, it is clear that such changes are unacceptable for reproduction of the original TG's. We firmly believe that using exact original covers for the Rod tracts are important since they also convey an important message and reflect on the character of the author and the message he bears, as written in the pages therein.
Now the complete volumes of TG's bearing original cover art from the 1953 revised edition are available for reproduction in their original tract size format in harmony with the latest version adopted and authorized by Bro. Houteff. Anyone can publish these inspired Timely Greetings today and distribute them like leaves of autumn, throughout Laodicea, without money and without price, just as God has instructed us to do.
| | |
| --- | --- |
| | |
| TG Vol. 1: Original (1946) | Revised Edition (1953) |
| | |
| --- | --- |
| | |
| TG Vol. 2: 1948 Edition | TG Vol. 2: 1949 Edition |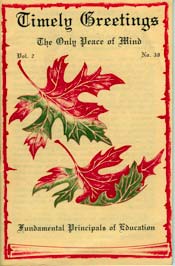 Remodeled TG cover from the Yuciapa Assn., circa 1975

Below this text box are some more interesting covers belonging to various Rod publications. In the first example we have one of the original 33 hectographed manuscript copies of "The Shepherd's Rod," Vol. 1 that was submitted to the leading men of the General Conference of SDA's in 1930 (see 7 Tract, p. 6). Next to it is a common softcover version of this book which was most likely the version that sold for a small cost.
The next exhibit of Rod cover artwork offers three examples of miscellaneous tracts that were printed with covers on textured and colored 80 lb cardstock. These appear to be the only tracts that were printed with this type of cover with the exception of Tract No. 13 which was printed on a special cardstock having a beautiful scalloped background design. Most of the remaining tracts and TG's seem to have been printed with covers using standard weight paper. As shown in some of the images above, there are examples where some print runs did include a second or third ink color, e.g., Tract No. 8, Tract No. 5, and the first printings of the TG's.
| | |
| --- | --- |
| | |
| Original manuscript copy of SRod | Softcover Edition, SR Vol. 1. |
Three miscellaneous tracts with covers printed on textured, colored cardstock